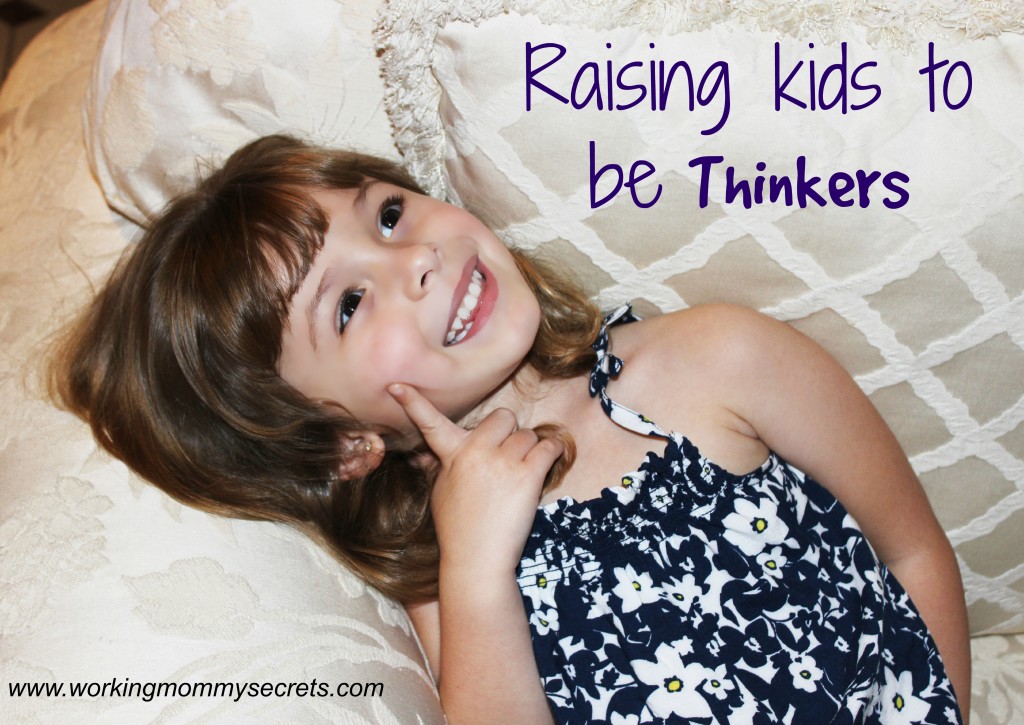 Raising kids to be thinkers
Think big, You become what you think about,  Knowledge is power… You've probably heard one of these cool thinking quotes that may have resonated and made you think…no pun intended. Here is one of my favorites – "thinking is the talking of the soul with itself" by Plato. But basically the word thinking is defined as the process of using one's mind to consider or reason about something.  Sounds pretty important eh?  Well it really is.  Since our thoughts are programming our lives at the rate of 1300 to 1800 words a minute, 24 hours a day, it is extremely important what kind of thoughts we allow in our minds.  If we are constantly getting negative input, our programming is going to be largely negative, which in turn, will hinder our ability to live happy and healthy lives.
As parents, we have the responsibility to teach our children.  Their young minds are in the process of developing the ability to evaluate facts. While they are in the process, they tend to believe pretty much everything they hear. This is why it is critical we choose our words carefully and monitor the activities they engage in.
So how can we encourage positive and productive thinking in our children's lives? How can we teach them to think and reason?
Engage your child in conversations and ask them questions. When playing outside, at the store or even when eating a snack at home, take a few minutes and ask them about the objects they are holding.  Just like your little ones do to you… ask them what, how, when, where and why too.  Some examples of thinking questions would be: How does the apple taste? Encourage them to say something more than just good. Is it juicy? Is it sweet, sour, tart? What do they like better apples or pears? Spark the thinking. Pretty much ask them questions that makes them think. They will play along.

The power of reading.

Read to them and eventually they will read on their own. Purchase their favorite books to encourage your kids to read. Take trips to the library and bookstores often. You can make reading even more fun by creating a small reading nook in your home that is kid friendly and comfy. My little one likes to read (pretends to read) in her Sofia the First tent/fortress.
Engage with your kids like normal people. Why do so many adults talk over and around kids? And if they talk to kids, it's about kid things? Why not involve them in daily happenings? Talk to them about the grocery list you need to put together, then invite them into the kitchen and discuss all the steps involved in preparing the meal, talk about things going on that day and plans for the weekend etc. When you're connecting with your kids like you connect with adults, they will naturally become better thinkers.
Encourage and cultivate their interests. If your daughter is interested in horses, take her to a ranch, purchase books on horses and download educational videos on horse care and horse-back riding. Whatever your child peeks an interest in, use that for fun learning and thinking opportunities. The more fun learning is, the more your kids will want to be thinkers.
Visit museums. All sorts of museums. From art to science. Kids can be inspired to be thinkers when they're in a place that celebrates knowledge and creativity. The same goes for mom and dad. There is lots of knowledge in these amazing buildings filled with creations and thought-provoking pieces. Take advantage, many museums are free, while some offer low cost admission. You will have material to talk about with your children for days.
Choose educational screen-time. There are numerous educational cartoons, movies, TV shows, and apps that will engage your children to think without wasting their brain. Taking advantage of screen time to fill your child's head with knowledge will pay off in the end. I'm convinced my daughter has learned some key concepts while using her leap pad. And my husband is a super up to date undercover geek because he is always reading all sorts of articles on his smart phone.  The addition of a smart device in his life actually has him reading more than ever before.
I want to hear from you. How do you help your kids become thinkers? Share your ideas with me and other moms on the comment section below or on Facebook.