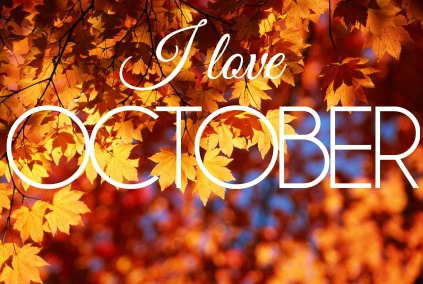 I LOVE October!
The month of October is one of the coolest months if not the best month of the year.

For starters my daughter was born in October… Do I need anymore reasons why? Probably not, but there are so many reasons why October is such an awesome month.  Here are a few reasons why…
Weather in South FL is not as hot. Weather everywhere else is just amazing – Crisp air, leaves changing color…

My favorite and BEST TV shows start in October – Oh so many cool shows! TV overload… 

Pumpkin spice flavor everything – lattes, pies, beers, yogurt, cereal etc etc etc.

Best fashion Season – Boots, light and lose long sleeves shirts, fashionable scarfs, dark nails and lipsticks

Playing dress up – You get to dress up as your alter ego… what do you want to be this month?

Halloween Parties – For kids and grownups!
My work anniversary – Accomplishment and reward
Scary 80's movies marathon – Because even though you have seen them a million times, you still watch them every October.
October sets the tone for the holiday seasons – Because after Halloween the holiday season fun begins!
Do you have a favorite month? If so please share what your favorite month is on the comment section below or on my facebook page.