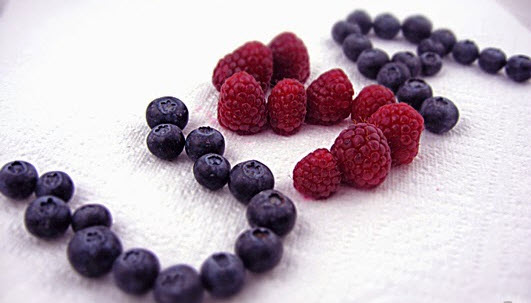 I love a good juicy burger, especially on the 4th of July! I also like all the cheesy sides, corn on the cob covered with butter, and warm apple pie (seriously drooling as I type). However I'm on a health kick and trying to lose some weight here, and the 4th of July is only two days away. What to eat, what to eat…?  I need to stay in check! I have promised myself to work a little, I mean a lot harder on making better food choices, so healthy version 4th it is. I'm a foodie, so flavor is a must.
I have put together a healthy menu for this Saturday. No creamy potato salad or corn casserole this time, but I'm definitely having a good quality burger with some awesome lighter sides and non-fat all natural fruit dessert.
Here is what's on the menu this year:
– Juicy Angus Burger on a Whole Wheat bun
– Berry spring mix Salad
– Red White and Blue Salsa
– American Flag fruit kabob


Recipes


Juicy Angus Burger
– Good quality Angus Burgers
– Season with just Kosher salt and cracked pepper (really that's all you need)

– Grill on high heat to get a good crust on each side
– Use your favorite toppings for your ideal burger

– See the video below for tips on Grilling the Perfect Burger


Grilling tips for the Perfect Burger
Blueberry, Romaine and Spinach Salad

2 bags of spring mix salad
10 strawberries, sliced
1 pack blueberries
4 oz. crumbled goat cheese, feta or any other shredded white cheese
A handful of pecans
Vinaigrette dressing
For serving a large crowd, toss all the salad ingredients in a large
serving bowl and add dressing to taste. For individual servings, arrange
ingredients on plates and serve the dressing on the side.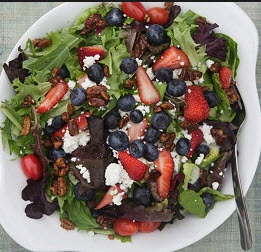 Red White and Blue Salsa
1 cup fresh blueberries
1 cup diced strawberries
1 cup diced Asian pear
1/4 cup finely chopped red onion
1/3 cup chopped cilantro
2 tablespoons finely chopped jalapeno pepper, stemmed and seeded (optional)
Juice of 1 large lime
Salt, to taste
Tortilla chips, for serving
In a medium bowl, combine all ingredients.
Stir until well combined. Season with salt, to taste. Serve with
tortilla chips.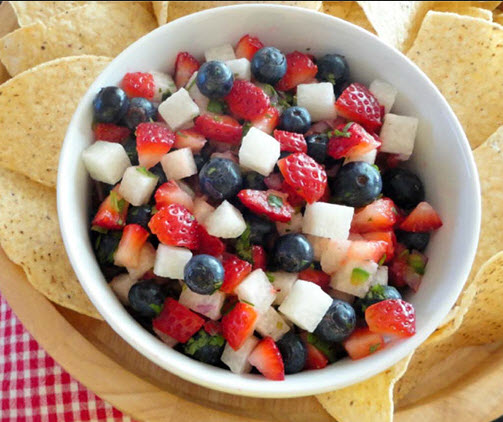 American Flag Fruit Kabobs
1 pack fresh strawberries or 2 packs of raspberries
3-5  bananas
1 pack of blue berries
10 thin wooden skewers
Arrange in the form of the American Flag mimicking the picture below.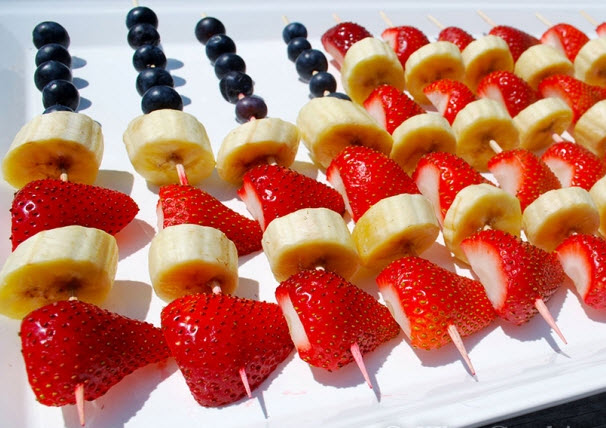 So here is what we will be enjoying this weekend. Like they say… "better choices, better outcomes". Please share with me any ideas or recipes to keep it healthy not just this 4th of July but all summer long.
Follow me on Facebook, Twitter and Instagram for pictures to come.
Happy 4th of July!