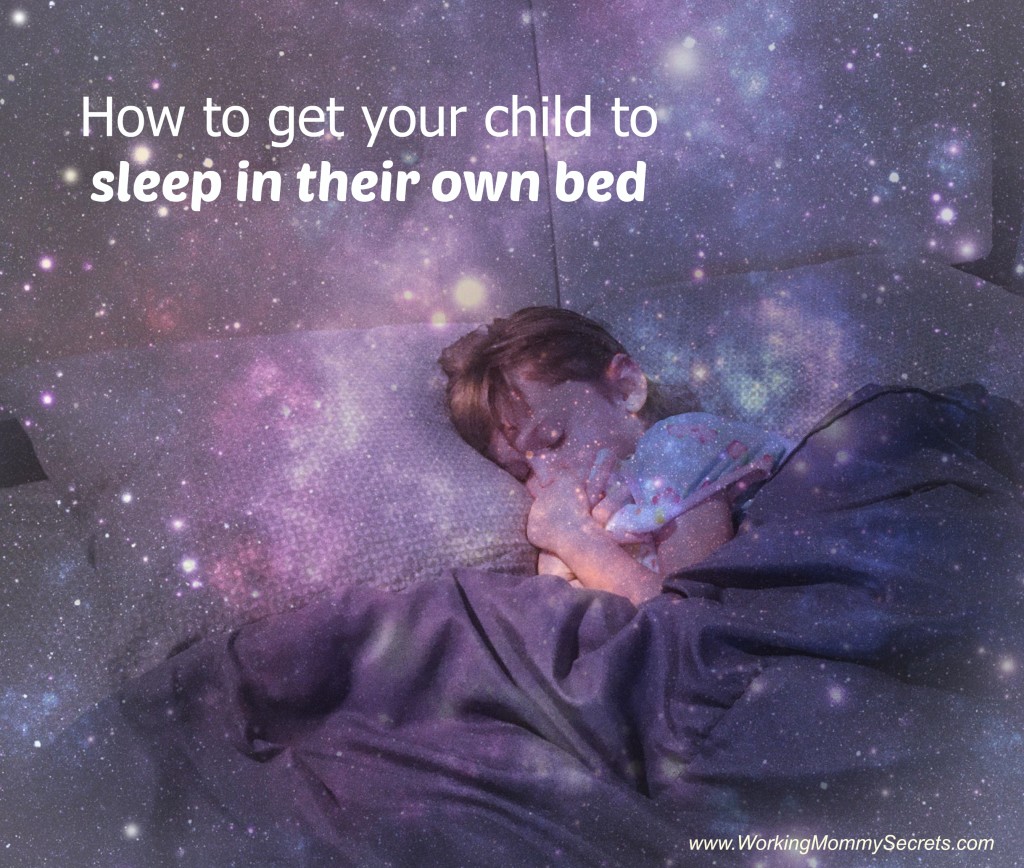 How to get your child to sleep in their own bed
BED TIME! Lately I probably say that about 3 times each night,  and I only have one child.  Getting kids to sleep can be a battle.  And getting them to sleep in their  own bed?  Well, that can be war!
As a baby my daughter was a great sleeper.  When she was 2 weeks old a good friend recommended a little book that guided me on how to get my baby to sleep 12 hours by 12 weeks.  It was great.  By the time she was 3 months she was sleeping from 7pm to 7am.  By the time she was 4 months old she was sleeping in her own room for 12 hours straight.  As a working mom this was great.  It allowed me to get things done around the house, cook dinner,  spend some quality time with the hubby and still get 6-8 hours of sleep each night. Fast forward to present,  she is now 4 going on 5 and going to bed is not as easy as it used to be.  She wants to spend more time playing, watching a cartoon or just spending more time with us.  My husband's work schedule also changed and I didn't want to put her to bed so early that she wouldn't get to see him at all so bed time was extended 30 mins.  Those little 30  minutes really mean a lot to both of them.   My husband and I wanted to spend more time with her so we became a lot more flexible with bed time.  Sometimes this working mama has to travel for work and sometimes that includes overnights so we let her sleep in the bed with us when I would return from a work trip.  But what was an occasional treat became more like a routine this past year.  Now my almost 5 year old begs and constantly tries to negotiate or manipulate me to let her sleep in my bed.  It's now time for me to go back to basics and apply my old yet effective tricks.  Whether you co-sleep or have a kid who just refuses to sleep in their bed, it may be time to intervene before they completely takeover your sanctuary.
Here are some easy tips I am applying to get my daughter to sleep in her own room again:
1. Use positive words:
Harsh words and reprimands do not work when it comes to kids and sleep.  Trust me, the last thing when you are trying to get them to sleep is to say something that will make then go into a meltdown.  Use positive words instead.  Say something like "Isn't it amazing that you get to sleep in your beautiful BIG girl bed?   This works better than saying "you are too old to sleep with mommy".
2. Teach her independence:
For your child, sleeping on their own is a big step.  Don't rush it.  Take baby steps.  It may take weeks, but if you rush it, you are more likely to fail.  You will end up frustrated and giving in to let them sleep in your room because you are just too tired and frustrated and want to go to bed.
4. Stick to a routine:
No means no, even at 2 in the morning!  So, if your kid wanders into your room and demands to sleep with you, as hard as it is, say no.  Walk them back to their room and help them fall asleep again.
5. Use incentives:
My daughter asked me the other day… "Mommy if I sleep in my own room tonight can we go to get ice-cream tomorrow?"   Seriously, that's what goes on in their mind! "Sure sweetie pie"  Why not!  So make the whole "sleep in your own bed" a big deal.  Offer incentives like stickers, small toys, a favorite treat – anything to tempt them into sleeping in their own room.  I never had to use this trick when she was smaller.  However I used it that night and it totally worked.
6. Your child's fear is real:
For your child, being in their own room alone in the dark can be scary. When your child tells you about the monster in her room, hear her out. Don't belittle her fears.  Instead offer a distraction like a blanket or a stuffed animal to protect her at night, read her a book, or offer her to turn on a night light.
7. Shower  your child with Love:
My daughter used to love going to bed last year just to do snuggle time and bed time story or song.  I restarted this routine and it is working like a charm. She looks forward to this now. So, cuddle your children, hug and shower them with kisses – do all that you can to make them feel loved and protected. Turn bed time into a positive time.
8. Start Early and Stick with it:
Yes, I should have kept at it. But well what can I say… I loved snuggling her…
It can be heartbreaking to put your crying baby or toddler in their bed. However, in the long run, it is the best you can do for your baby. So, don't wait till your kid is in kindergarten. The sooner you start, the easier it will be. Work on a sleeping schedule and stick to it. Once your child is sleeping in on his own bed, don't let him crawl back to yours. No matter how tempting it is… I know, I know. Starting early is  probably the best tip on how to get your children to sleep in their own bed.
9. Incorporate Essential Oils:
Use a diffuser in your kids room or add a drop of Lavender Essential Oil on a cotton ball and place it near their pillow at bedtime. Lavender has been cherished for its unmistakable aroma and its therapeutic properties for thousands of years. Lavender is widely used for its calming and relaxing qualities. You can also use a drop of Roman Chamomile Oil which is considered a natural sedative. Another essential oil that possesses calming properties is Clary Sage. Essential Oils are very effective and provide a natural approach to support sleep. For more information click here.
With these simple tips, you can encourage your children to take their first steps towards independence. They will cry and throw a tantrum here and there, but in the years to come, you will be glad you did! You will be more rested and the hubby will be happy too.
How did you get your child to sleep alone? Share your tips on the comment section below or on Facebook.