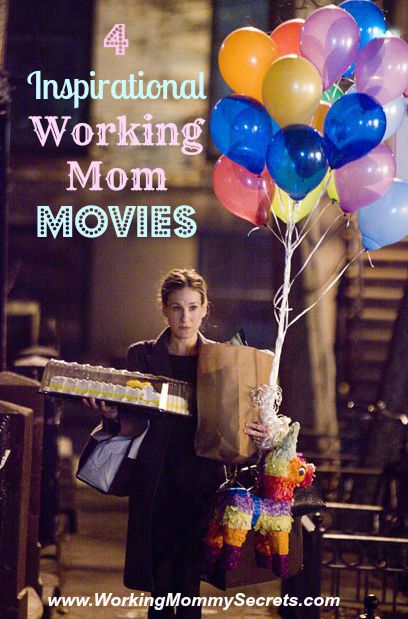 You are one busy mommy!  Long hours at work, long nights up when your child is sick. Long commutes, last minute stops at the supermarket to get milk.  Soccer practice, ballet recitals.  Parent/teacher conference, business conference calls, angry bosses, and you find find yourself spread thin. Let's not forget your hubby begging for your attention too. You can't seem to catch a break.  Ah if life was like in the movies… you could just yell CUT!
If you are a working mom, here are 4 Inspirational Working Mom Movies you Must See.  These 4 women are smart, determined, strong, and loving mothers that figure out how to make it happen… and they do it all while looking darn cute too.  So this weekend, if you get a chance… rent one of these inspiring movies. I promise that in between laughs and tears will relate in more than one way.
1. I Don't Know How She Does It
Release date: September 16, 2011

As an employee at a Boston-based financial firm, Kate Reddy (Sarah Jessica Parker) struggles daily to balance the demands of her high-powered career with the needs of her husband (Greg Kinnear) and children. She gets an account that requires frequent trips to New York and her husband gets a new job. Complicating Kate's life even more is new business associate Jack Abelhammer (Pierce Brosnan), who throws temptation into the mix.

2. It's Complicated
Release date: December 25, 2009


Jane (Meryl Streep), a successful restaurateur, has been divorced from Jake (Alec Baldwin) for many years, although they remain friends. When an innocent meal together turns into an affair, Jane finds that she is the other woman in the now-remarried Jake's life. Meanwhile, Adam (Steve Martin), an architect hired to remodel her kitchen, is still stinging from his own divorce. He finds himself falling in love with Jane but soon realizes that he has become part of a triangle.

3. Baby Boom
Release date: October 7, 1987



J.C. Wiatt (Diane Keaton) is a New York City businesswoman who is married to her job and has a relationship with Steven (Harold Ramis), a successful investment broker. J.C.'s life takes an unexpected turn when a relative suddenly dies and makes her the caretaker of a baby girl. Soon, the baby's arrival causes J.C. to lose first Steven, and then her job. She moves to Vermont and embarks on a series of life-changing events. But when offered the opportunity, will she return to her corporate ways?

4. Erin Brockovich
Release date: March 14, 2000

Erin Brockovich (Julia Roberts) is a woman in a tight spot. Following a car accident in which Erin is not at fault, Erin pleads with her attorney Ed Masry (Albert Finney) to hire her at his law firm. Erin stumbles upon some medical records placed in real estate files. She convinces Ed to allow her to investigate, where she discovers a cover-up involving contaminated water in a local community which is causing devastating illnesses among its residents.
What are some of your favorite working mom movies? I'll go get some popcorn and a glass of wine… 😉