Raising a penny-wise kid is of great importance to our family.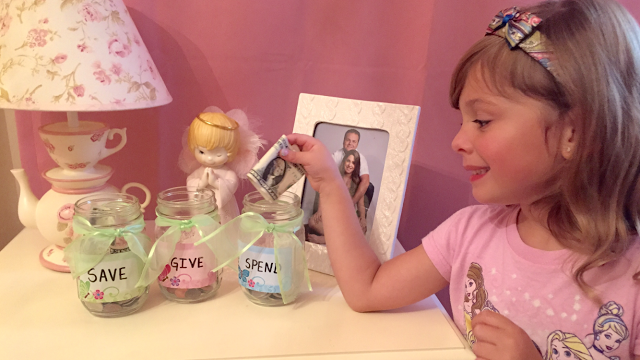 Until the age of 13 I had never seen a credit card or even heard of the concept of "charging" a card at a store and then paying later. My concept of money was simple; save, save and use wisely because we don't know what tomorrow might bring. As a child growing up in a communist country, the concept of Capitalism was sacrilegious. (that's a story I will share later). However the basics of money management were still elementary – You don't spend what you don't have, and you save for the future. 
We live in an in debt, over stimulated world. It is technically considered "good" to have "good" debt to establish good credit. We have home loans, car loans, school loans and the list goes on. As with anything worth learning, the best and most well-received knowledge comes to us when we are children. This is why I think it is critical to start teaching our children how to manage their money at a young age.

The basic concept of good money management:
Save, give, spend wisely – we won't discuss investment at this post.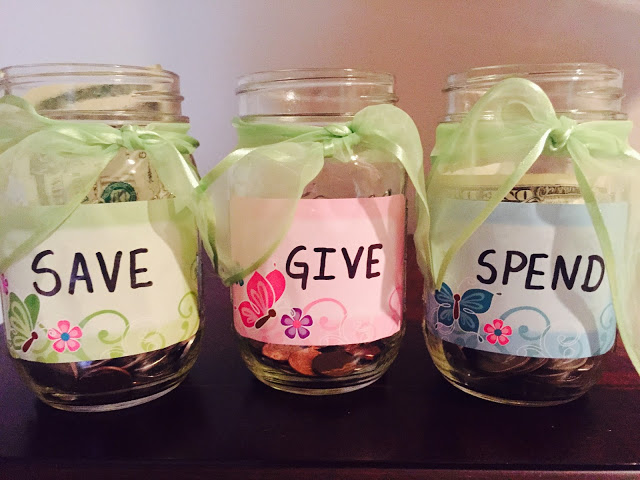 Lets face it, our children do deal with money. How? Well, they get money through birthdays, Christmas, and other holiday gifts, allowances, lunch money, lemonade stands and doing extra tasks here and there. Every time your child gets a dollar, it is an opportunity and good practice  to discuss what he or she is going to do with it. Your child is also watching how you and your partner handle money related issues. Wether you discuss a big purchase, compare pricing before buying or impulse buy things at the register at check-out. Basically the way we as parents deal with our finances will most likely affect our kids attitude about money.

Save
Talk to your child about the importance of savings and how much to save. Give them ideas and reasons why it is important to save. Help them visualize it. Ask them what they would like to purchase. Is it a new doll, an ice cream cone, or tickets to Taylor Swift? 
Make it a fun habit. Use clear mason jars so they can see the money grow. Let them decorate it. Help them create short-term and long-term goals. Use the same jar or better yet, have them use separate jars. One can be their short-term candy or toy store trip jar and the other one can be their  family vacation or first car jar. Help them understand the concept of how much they need to save. If they understand it, they will buy into it. Keep it simple, start with half of the money they get
Give
Since the moment our kids start to play within groups, we find ourselves constantly reminding them to share their toys with the other children. When it comes to sharing their money, help them understand why they want to share and how sharing will make others feel. Encourage your child to give to others. From buying a small thank you present for a loved one to sharing with someone in need. Show them by example. Take them with you to buy a token of appreciation for their sibling or their grandmother. Talk to them about donating some of their money or old toys to a less fortunate child. This could be just a small percentage, make it 5-10%. They can keep this money in a separate jar as well. The goal here is for your child to appreciate what they have, learn how fortunate they are, how they can help someone else, and also how good it feels to give.Spend wisely
OK, this one is the fun but tricky one. This is the area where most people's money problems begin. This is why it is very important to teach children to spend wisely at an early age.  Teach your kids the value of money, how much things cost, needs versus wants, and how to spend only what you can afford. If they can't afford it yet, how they should continue to save to be able to buy it. Guide them through the process, but it should be up to them to decide what they want to do with the money they have. If they want to take it all and spend it at the candy shop so be it, but teach them that once the money is gone, it's gone. 
Reason with them but ultimately let them make their choice. After all it is their 45% right?
Teach your preschooler the names of coins, their value, how to count them, and how they fit together. Involve them when you are making transactions at the store. Let them see how you trade money for the items that you are buying. My little one loves to be the one who pays at the grocery store. I'm still working on explaining how credit cards work to a 4 year old.
Here are some suggestions on books for children and parents to help you in the process of teaching your kids the importance of money management.
Money Books for Kids
– Lemonade in Winter By: Emily Jenkins and G. Brian Karas
– Bunny Money By: Rosemary Wells
– Money Matters for Kids, New Edition By: Larry Burkett, K. Christie Bowler
– Joseph Had a Little Overcoat By: Simms Taback
– The Lemonade War By: Jacqueline Davies
– The Opposite of Spoiled: Raising Kids Who Are Grounded, Generous, and Smart About Money By: Ron Lieber
– The Everything Kids' Money Book: Earn it, save it, and watch it grow! By: Brette McWhorter Sember