Looking for an awesome hot dish to make for your family this weekend? Why not make an amazing home cooked lasagna – the way I learned to make it back in Cuba when I was 9.
My family and friends love this dish so much that every time there is a family gathering they request it. The secret to this dish is the MOTHER of all sauces –  The Bechamel.
The Bechamel sauce is also known as white sauce in America and is made from a
roux
(butter and flour, then slowly adding milk).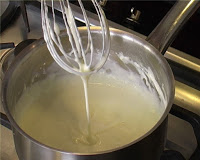 So here is the recipe for my famous (locally) lasagna. I hope you enjoy it as much as my family does
Click on my
Twitter
,
Facebook
or
Instagram
to share pictures of your masterpiece once you have made it. I hope you enjoy.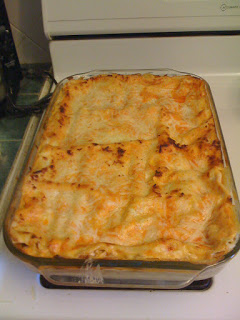 Ingredients

9 sheets boil-free lasagna noodles
2 cups mozzarella cheese
1 cup cottage Cheese (totally optional – sometimes I do sometimes I don't)
Olive oil 

Meat Sauce:
1lb ground turkey or very lean beef
1/2 onion, finely chopped1 carrot, gratedSalt and freshly ground black pepper
4 cloves garlic, minced
1/4 cup red wine
1 (20-ounce) jar prepared marinara sauce
(I like Prego)
Directions

Preheat the oven to 400 degrees F.
For the meat sauce:
In a large saucepan add 3 tablespoons for olive oil (med temp) add
the onions and carrots, season with salt and pepper, and cook until
softened for about 3 minutes. Add the garlic and cook another minute. Add
the ground beef and cook until the beef is no longer pink, 6 to 7
minutes. Deglaze the pan with the wine and add the marinara sauce. Fill the jar one-quarter full with water, swish it around to
pick up any sauce left behind, and add it to the pot. Cook for 2 minutes then remove from the
heat and set aside.

For the bechamel sauce:
Heat the milk in the microwave for 2
minutes. In a large saucepan over medium heat, melt the butter, and then
whisk in the flour. Cook, whisking
constantly
so you'll be working those arm muscles for 2 minutes!  Whisk in
the warm milk and cook until thickened, whisking frequently, about 10
minutes. Add the nutmeg, garlic, salt, and pepper and set aside.  How many times did you count the word "whisk" 🙂  whisk whisk!
To assemble: Coat a 9 by 13-inch baking dish with olive oil.
Spread a 1/4 cup of the meat sauce in the bottom of the pan.
Lay 3 noodles crossways in the pan. Add the layers in
the following order: cottage cheese, meat sauce, grated cheese, and
bechamel. Then, add another layer of noodles, cottage cheese, meat
sauce, mozzarella cheese, and bechamel. Finally, add the remaining 3
noodles, meat sauce, grated mozzarella cheese, and bechamel. Spray a large piece of
foil with cooking spray and cover the lasagna tightly. Bake for 40
minutes. Remove the foil and top with the remaining grated mozzarella cheese and
cook an additional 10 minutes, or until the lasagna is bubbling. Allow
the lasagna to rest 15 minutes before cutting.
Enjoy!